In addition to your cake you can order all kinds of sweets at TortAventura. You can order a complete sweet table or you can choose a number of separate sweets to go with your cake, such as cupcakes or cake pops. Everything will be decorated in your chosen theme and colours.
Cupcakes
A cupcake is a small cake, an individual portion with a diameter of 6 cm that can be decorated as desired. Cupcakes are available in various flavours.
Dessert cups
A light pastry in a transparent cup. Available in different variants.
Donuts
Decorated donuts. Can be ordered in any colour or theme. A donut wall is also possible.
Cake pops
Cake pops are decorated little balls of cake, like a lollipop on a stick. Made from brownie and coated with chocolate.
Macarons
Almond cookies in the flavours: strawberry (pink), vanilla (cream), pistachio (green), chocolate (brown). All kinds of fillings possible.
Chocolate covered Oreos
An Oreo cookie covered with candy or chocolate and decorated with fondant.
Cake Popsicles
A cake pop with a wooden stick in the shape of a Magnum ice cream covered with candy or chocolate. Matching your theme and decorated with fondant.
Meringue lollipops
Egg white foam like a lollipop on a stick. Various options, colours, flavours and decorations.
Chocolate strawberries
Strawberries dipped in chocolate. Also possible as a tower.
Meringue kisses
Bite-sized swirls of meringue candy. Available in all kinds of shapes and colours.
Decorated cookies
Homemade cookies decorated with fondant or royal icing.
As the name might suggest, a sweet table is a table full of delicious sweets. It is a real eye-catcher at your party, wedding or baby shower.
At TortAventura you can order a sweet table for € 6.50 per person. Your guests can then enjoy a piece of cake and two sweets each. A more extensive sweet table is also possible; for € 9.50 per person you have a piece of cake and 4 sweets per guest.
For a small fee, you can borrow cake stands, platters and if needed a table to present your sweet table beautifully. TortAventura could also take care of the complete styling/decoration for you. Feel free to enquire about the possibilities.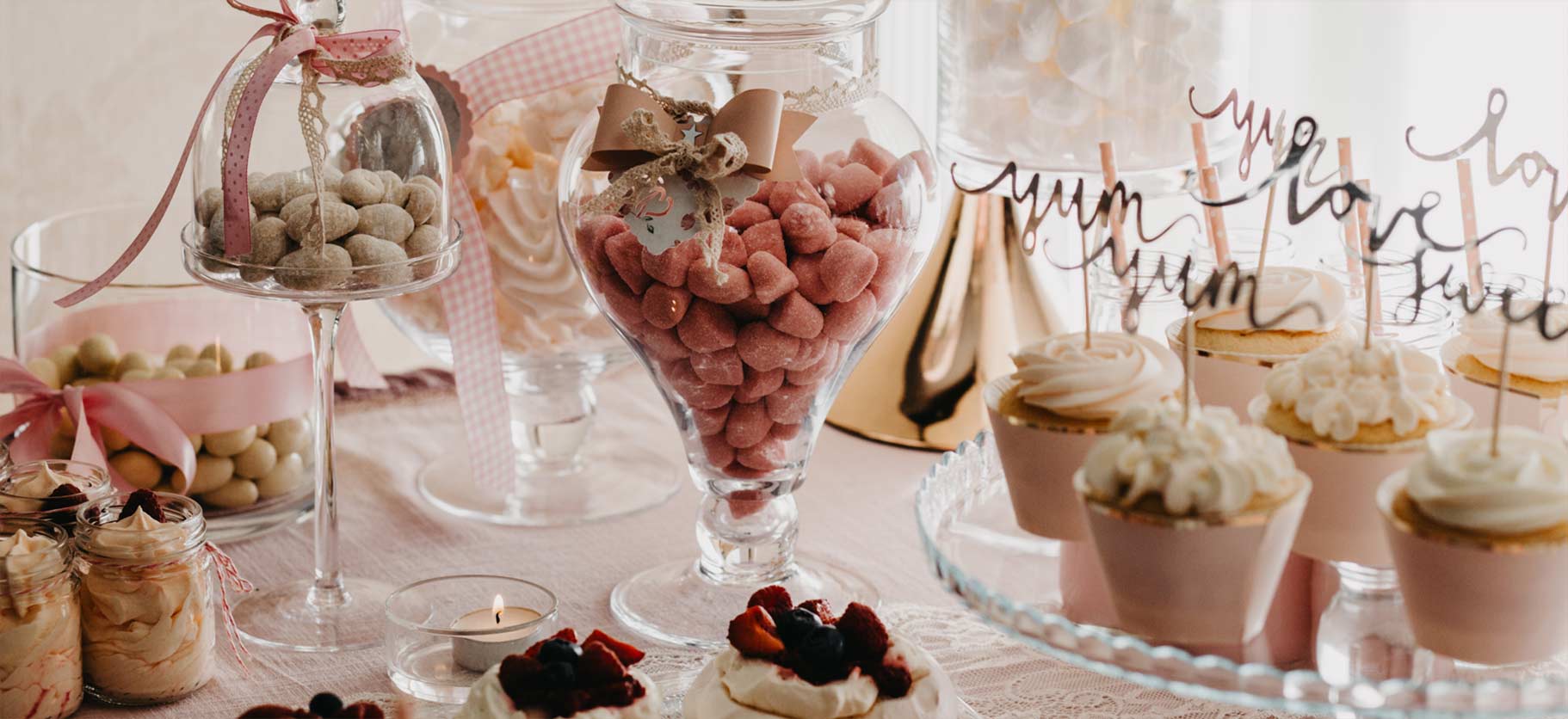 T
reat day at work, school or a children's party? TortAventura makes the best treats. For companies also with company logo. Whatever your theme or wishes, TortAventura turns it into something fun (and tasty). Feel free to enquire about the possibilities!